Order Custom Branded Products With Us!
CUSTOMBRANDED.com offers the web's best selection of promotional products, company merchandise, and branded swag, custom imprinted or embroidered for your need. Maybe it's for a trade show, employee recognition, or promoting your organization. We love to help you find just the perfect custom branded products to make your name pop, create buzz, and keep your business humming.
Family business, full-service promotional marketing professionals
Our founder, Anne Sheldon, entered the branded products and apparel industry with a large distributor in the 1980s. Anne developed the first promotional products catalogue program for Boeing, managed the Microsoft company store, and over the years has worked with many other top companies. The names have changed – from ad specialties, to promos, leave-behinds, wearables, swag and beyond – and the list of products is always growing. Yet, the fundamentals: quality, competitive pricing, and great service, remain the same. We build on your success. That means doing whatever it takes to bring your promotional products campaign to the next level.
Sleek and simple, or helping you design your promotional products campaign
Sometimes you know what promotional item you need and how you will use it. It's all about the specs, a price quote, and uploading your artwork. Other times you have a vision, but could use a promotional products consultant to help design a program from product selection to distribution plan. We can help you develop a company store, catalogue program, direct mail campaign, or multi-level safety program. Use our streamlined shopping cart, or give us a call.
Cheap promotional products, or top-drawer. Bulk discounts and competitive prices.
Every promotional products campaign has to fit within a budget. We help you come out ahead. Search our website for budget savers under $5, $3, or $1 per item, or benefit from our bulk discounts on most items. If you need a high quality business gift for priority prospects, we have that too. We can help you organize your distribution plan to deliver the rightproducts to the right customers.
Call it swag, merch, promos, wearables, or logoed apparel.

You name it.
Whether it's a custom tote bag, company jacket, screen printed shirt, embroidered hat, imprinted yardstick or logoed pen, we have it at CUSTOMBRANDED.com. Our catalogue has thousands of marketing products and trendy apparel items to choose from. Use our categories for top searches, budget savers, themes or eco-friendly promotional products, or use the site-wide search tool. If you can't find it, give us a call or e-mail us at sales@custombranded.com. We're standing by.
Give smart with custom branded products and apparel from CUSTOMBRANDED.com
As our world becomes more connected, the roles of branding, buzz and buy-in only grow. Promotional products are a powerful way to get your name out, create customer loyalty, and get people talking about your business. Give smart. We give you everything you need – and nothing you don't need – to make custom branded promotional products work for you.
Featured Item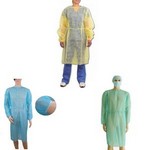 Protective Gowns
Disposable Knitted Cuff Isolation Clothing. Made of high quality non-woven material, safe, soft, durable, comfortable to wear. Elastic cuff trousers for easy stretching, provide comprehensive protecti...
$3.217 - $5.368